D-Link DSP-W245/E, mydlink Wi-Fi Smart Power Strip
D-Link DSP-W245/E, mydlink Wi-Fi Smart Power Strip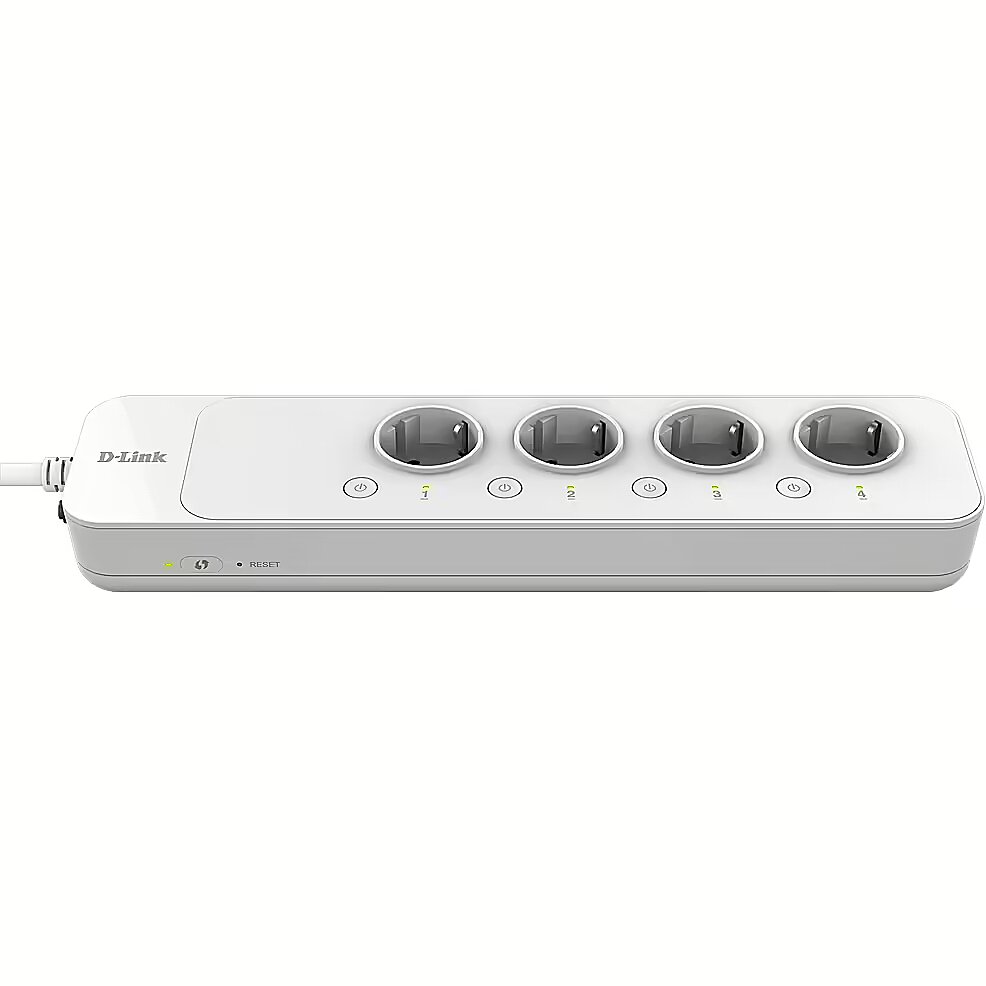 Prece var atšķirties no attēlā redzamās. Attēlā var būt detaļas un aksesuāri, kas neietilpst preces komplektācijā.
ID: 209291
Preces kods: DSP-W245/E
Garantija: 2 gadi
(Juridiskām personām garantija 1 gads)
Piegāde uz Omniva pakomātu bez maksas: pirmdien, 25.10.2021
Piegāde uz DPD Pickup Paku Skapi bez maksas: pirmdien, 25.10.2021
Piegāde Rīgā 3,99 €: pirmdien, 25.10.2021
Piegāde citur Latvijā 6,99 €: pirmdien, 25.10.2021
Saņem Dateks.lv paku izsniegšanas punktā Zemitāna ielā 9: šodien, 21.10.2021 pēc 15:00
Visi parametri
Tips
:
Smart power strip
Papildus specifikācija
Papildus informācija ražotāja mājas lapā D-Link DSP-W245/E, mydlink Wi-Fi Smart Power Strip
Accessories included -
Antenna - Built-in
Brand - D-Link
BrandPartCode - DSP-W245/E
Category - Root/Smarthome/Electricity/Electric sockets/Samrt Plug
Category - Smart Plugs
Color - White
Description -
dimension depth - 60 mm
dimension height - 395 mm
dimension weight - 1140 g
dimension width - 150 mm
Dimensions - 350 x 84 x 40 mm
ean - 790069423642
Eans - 790069423642
Environment requirements -
Features - Certification - CE/LDV/ErP/RoHS
Features - LED indicators - Power, WPS
Features - Placement supported - Indoor
Features - Product colour - White
Features - Reset button - Y
GTIN - 0790069423642
guarantee - 24
guarantee_type - external
LongDesc - Extended Family
The mydlink Wi-Fi Smart Power Strip extension allows you to monitor and control your favourite appliances anywhere.
Control your favourite appliances remotely with the mydlink Wi-Fi Smart Power Strip
Connect up to four devices over your Wi-Fi for instant control on your phone or tablet through the free mydlink™ app. Switch your things on or off, and automate any appliances to conveniently work around you. Wake up to the scent of brewing coffee, switch anything on from your sofa, or know your dinner's cooked before you're home.
Say hello to your assistants
Easily integrates with Amazon Echo's Alexa or Google Assistant for convenient hands-free voice control.
Take it to the next level with IFTTT recipes to automate with other smart home compatible devices. Save time, and enjoy a safer, more comfortable home.
Your home, your rules
Create one-touch routines and recipes to automate your smart home.
Never reach for those out-of-the-way sockets again. Control lights in a room. Turn everything off when you sleep, and automatically set lights to turn on earlier during the darker winter months.
Smarter than regular extensions
Help your wallet and the environment by having devices switch off completely when you step out the door. See how much energy your gadgets use with beautiful real-time power consumption reports. Schedule it, automate it, or set a budget cap for any appliance and have it turn off automatically.
Be at home, even when you're out
No more wondering if you left your curling iron on. See the power status of each socket and turn any off with a touch of your phone. Set schedules to make it look like you're home while away or on holiday. Get an instant notification and turn your lights and radio on when your mydlink security camera detects someone.
Intelligent Design
Discreet light indicators show the power status of each socket. The Wi-Fi Smart Power Strip has built-in protection which safeguards against power surges and overheating, and instantly alerts you if something's wrong.
Super Easy setup
Plug it in an outlet. Add it to your account using the free mydlink app. Done.
The future of home life is now possible with smart home technology
Connect your home to a growing number of smart home devices that work with the mydlink app on your phone or tablet. Keep an eye on your home while you're away, save money on your electricity by controlling your power budget, set your lights to turn on when it gets dark.
LongProductName - 4 x Type F, IEEE 802.11n/g, WPA/WPA2/WEP, WPS, 3680 W / 16 A, 1.5 m, 830 g, EU
LongSummaryDescription - D-Link DSP-W245. Connectivity technology: Wireless, Wireless technology: Wi-Fi, Wi-Fi standards: 802.11g,Wi-Fi 4 (802.11n). Placement supported: Indoor, Product colour: White, LED indicators: Power, WPS. Maximum input power: 3680 W, AC input voltage: 100 - 240 V, AC input frequency: 50 - 60 Hz. Width: 350 mm, Depth: 84 mm, Height: 40 mm
Name - D-Link DSP-W245
name - DSP-W245 WiFi Smart Power Strip
Number of antennas - 1
Operational conditions - Operating relative humidity (H-H) - 10 - 90%
Operational conditions - Operating temperature (T-T) - 0 - 40 °C
Operational conditions - Storage relative humidity (H-H) - 5 - 95%
Operational conditions - Storage temperature (T-T) - -20 - 65 °C
Other features -
Performance - Operated via Android devices - Y
Performance - Operated via iPhone/iPad - Y
Performance - Remotely operated - Y
Ports & interfaces - Connectivity technology - Wireless
Ports & interfaces - Interface - WWAN
Ports & interfaces - Security algorithms - WEP,WPA,WPA2
Ports & interfaces - Wi-Fi - Y
Ports & interfaces - Wi-Fi standards - 802.11g,Wi-Fi 4 (802.11n)
Ports & interfaces - Wireless technology - Wi-Fi
Power - AC input frequency - 50 - 60 Hz
Power - AC input voltage - 100 - 240 V
Power - Maximum current - 16 A
Power - Maximum input power - 3680 W
Power - Power plug type - Type F
Power supply -
producer - D-Link
Producer - D-link
ProducerCode - DSP-W245
ProductName - DSP-W245
Security - WPA/WPA2 WEP
ShortDescription -
ShortSummaryDescription - D-Link DSP-W245, Wireless, Wi-Fi, 802.11g,Wi-Fi 4 (802.11n), WEP,WPA,WPA2, WWAN, Indoor
Special functions - Przycisk WPS 4 przyciski zasilania On/Off Przycisk reset
Standards - 802.11g
Standards - 802.11n
Technical details - Master (outer) cases per pallet (air) - 18 pc(s)
Technical details - Master (outer) cases per pallet (sea) - 30 pc(s)
Technical details - Pallet gross length - 120 cm
Technical details - Pallet gross weight (air) - 238.6 kg
Technical details - Pallet gross weight (sea) - 385 kg
Technical details - Pallet gross width - 110 cm
Technical details - Pallet height (air) - 112.5 cm
Technical details - Pallet height (sea) - 178.5 cm
Technical details - Products per pallet (air) - 180 pc(s)
Technical details - Products per pallet (sea) - 300 pc(s)
Technical details - Products per shipping (inner) case - 10 pc(s)
Technical details - Shipping (inner) case gross weight - 12.2 kg
Technical details - Shipping (inner) case height - 33 cm
Technical details - Shipping (inner) case length - 41 cm
Technical details - Shipping (inner) case net weight - 11.4 kg
Technical details - Shipping (inner) case width - 33.5 cm
Technologies - Inteligentny pilot zdalnego sterowania Powiadomienia push Statystyki dotyczące zużycia energii Planowanie mocy Ochrona przed przepięciami Ochrona przed przegrzaniem
Title - D-Link DSP-W245 smart plug 3680 W White
URL - https://eu.dlink.com/uk/en/products/dsp-w245-mydlink-wifi-smart-power-strip
vendpn - DSP-W245/E
WarrantyInfo - 2 Years
Weight - 830 g
Weight & dimensions - Depth - 84 mm
Weight & dimensions - Height - 40 mm
Weight & dimensions - Package depth - 392 mm
Weight & dimensions - Package height - 62 mm
Weight & dimensions - Package weight - 1.14 kg
Weight & dimensions - Package width - 150 mm
Weight & dimensions - Weight - 830 g
Weight & dimensions - Width - 350 mm